Regular price
$26.00
Sale price
$18.00
Unit price
per
Sale
Sold out
DETAILS

Limited Time Special Offer - Try 6 of our top-selling fragrances at a special discounted price! This sample pack includes 6 fragrance samples from some of our top fragrance collections.

Listing is for one sample pack with 6 x 1 fl oz fragrance oils. Choose the sample pack(s) you want from the menu.* See table below for a list of fragrances in each individual sample pack.


Choose from the following sample packs: 

Top Christmas Fragrances
Top Fall Fragrances
Top Woods & Spice Fragrances (masculine scents)
Top Perfume Fragrances
Top Cologne Fragrances
Top Spring & Summer Fragrances
Top Bath & Body Works (type) Fragrances
Top Soap Fragrances
Top Kitchen & Bakery Fragrances

*You may order multiple different types of sample packs if you wish. Limit one of each sample pack per order (no multiples of the same sample pack allowed). Orders with multiples of the same sample pack are subject to having the multiples removed.

What fragrances do I get?

Each top-6 sample pack has six 1 oz sample bottles. Here are the fragrances you get with each individual sample pack:

Substitutions are not allowed.


Top Christmas Fragrances


Christmas Pine
Farmhouse Christmas
Gingerbread Crunch

Cabin Christmas

Twisted Peppermint

Sleigh Ride

Top Fall Fragrances

Autumn Magic

Harvest Moon
Leaves
Magical Brew
Vampire Blood
Wassail

Top Woods & Spice Fragrances

Cedarwood & Amber

50 Shades

Mahogany Teakwood
NorthWoods
Bow Ties & Bourbon

The Gentleman

Top Perfume Fragrances

Bibliotheque
Black Orchid
Flowerbomb
Santal 33
Ed Hardy for Women (type)

Sweet Grace


Top Cologne Fragrances

Burberry Men (type)

Bleu De Chanel (type)

50 Shades
The Gentleman
Chrome Legend (type)
Drakkar Noir (type)


Top Spring & Summer Fragrances

Love

Coconut Lime Breeze
Energy
O'ahu
Bamboo & White Grapefruit

Blueberry Lavender


Top Bath & Body Works (type) Fragrances

Aloha Vanilla
Eucalyptus Spearmint

Coconut Water & Mango
Flannel
Gingham
Honolulu Sun

Top Soap Fragrances

Spa Day

Spring Air
Turquioise Waters (type)

French Cade Lavender
Irish Spring Soap (type)
Shampure

Top Kitchen & Bakery Fragrances

Lemon Poppy Seed

Cinnamon Apple Pie

Glazed Doughnuts
Oreo Cookies
Strawberry Cupcake
Banana Pudding

 

About Our Fragrance Oils

Our fragrance oils are specially formulated to give you an extra strong scent throw from your candles. Most are also safe for use in bath and body products.*

Wholesale priced and super concentrated. Try our fragrance oils today at a reduced price with this fragrance sample pack!

*Most of our fragrances are body safe and can be used as soap fragrance oils or in other bath and body products. Check the individual fragrance oil page for specific use instructions.

See specific product pages for CA Prop 65 information.

All fragrance oil sales are final. Please read our fragrance oil Terms & Conditions.
IFRA MAXIMUM SKIN EXPOSURE LEVELS

Most of our fragrances are body safe and can be used as soap fragrance oils or in other bath and body products. Check the individual fragrance oil pages for specific usage instructions.
FRAGRANCE OIL FAQ

What can I make with fragrance oils?

Fragrance oils are versatile and can be used for a wide variety of projects. If you're looking for inspiration, here are just a few of the things you can make:

Candles & wax melts
Soap
Bath Bombs
Lotion
Reed Diffusers
Perfume & Cologne
Room Spray
Potpourri
And more!

For more project inspiration, be sure to check out our recipes here and on our blog MadeWithNorthWood.com

Are your fragrance oils skin-safe?

Most of our fragrance oils are skin-safe, provided that you use them at the correct concentration. With skin-safe fragrance oils, you can make your own soap, bath bombs, lotion, shampoo, perfume, massage oil, and more. Please refer to the IFRA certificates on each fragrance page for specific usage requirements.

What does "Maximum Use Level for Skin Exposure" mean? 

The Maximum Use Level for Skin Exposure is the amount of fragrance, flavor and essential oil that can come in contact with the skin. It does not mean that your base product can perform at these levels. You must test each oil in each application for evaluation of desired performance. Baby products often have lower use levels than those listed in the IFRA table. Please read the IFRA certificate to see maximum use levels for different products.

Do your fragrances comply with the IFRA? 

All of our fragrance products are in compliance with the standards of the International Fragrance Association, provided the fragrance is used at the noted maximum concentration level(s) for the application(s) listed in the IFRA tables and on the IFRA certificate. 

What is the IFRA?

IFRA stands for the International Fragrance Association, which is a fragrance regulatory body. You can read more about the IFRA in our blog here.

How can I access the Safety Data Sheet (SDS) for a fragrance?

Links to SDS documents are available on our fragrance pages at the end of the product description. Scroll to the bottom of the section to view document links.

How can I find a specific fragrance I'm looking for?

If you know any part of the fragrance oil's name, start by typing it into the search bar at the top of our website to view the results. You can also search for specific fragrance notes, such as floral, musk or vanilla. 

Our fragrance oils are also organized into several different collections, which makes it easier to find what you're looking for. Learn more about these collections here.

Can you blend a custom fragrance for me?

We are unable to mix custom fragrances for individuals at this time. However, if you have a specific fragrance oil you would like us to carry, please let us know. Our skilled perfumers are able to create duplications and new fragrances for us.

How are your fragrance oils packaged?

Our 1 oz through 16 oz bottles of fragrance are packaged in clear HDPE plastic bottles. Most bottles are heat-sealed with an induction liner. This is done to protect the fragrances and keep them from leaking during transit.
Our 7 lb fragrances will typically be packaged in a plastic jug to reduce packaging materials. If ordering 14 or 21 lbs of a fragrance, you will typically receive it in multiple 7lb jugs.
If you order 25+ lbs of fragrance, it will be packaged in metal or plastic pail(s), depending on the fragrance ordered. You cannot request a specific packaging material. All of our large fragrance pails have a pouring spout. Nozzles are not included.

Do you combine bottles if I order more than one of the same fragrance?

If you order multiple bottles of a certain fragrance, we will package them in the bottle size(s) you ordered. For example, if you order 2x 8oz bottles, you will receive two 8 oz bottles.

If you want us to combine your bottles, please leave a note when you check out.

What can I do if I don't like a fragrance oil?

While all of our fragrance oils are made with the highest quality materials, we know that not everyone will love every fragrance. However, we always encourage you to try making a project with the fragrance before deciding that you don't like a fragrance. Many fragrances smell different out of the bottle (OOTB) than they do in wax, soap, or other projects. You may love the fragrance in wax or soap even if you don't care for the OOTB scent.

When gauging fragrance oils, we also encourage you to smell from the bottle rather than smelling the cap. It is more difficult to get an accurate idea of the fragrance when smelling a 1 oz bottle due to the small size of the opening. To get a better idea of what a fragrance really smells like, blotter strips can also be useful.

If you've tried these techniques and still don't care for a fragrance you ordered, there are numerous candle & soap making groups on Facebook. Many of these groups allow you to de-stash supplies.

Can I return fragrance oils?

For hygienic reasons, fragrance oils cannot be returned. We are unable to issue refunds or replacements unless you received the wrong fragrance oil (See question below).

When trying a new fragrance, we always recommend ordering a 1 oz sample size before ordering a larger size. We have 1 oz samples available for all of our fragrances. With our tiered 1 oz bottle discount, you can save money by ordering multiple different samples to try. See the Buy More, Save More tab on fragrance product pages for more information on tiered discounts.

What can I do if I believe I receive the wrong fragrance oil?

While we do our best to ensure all fragrances are labeled accurately, mistakes can occur. If you believe you received a mislabeled fragrance, please contact us within 7 days to report the error. Although we cannot accept returns on fragrance oils, we may issue a replacement if we determine that you did receive the wrong fragrance.

Please note that there may be slight variations in a fragrance oil's color from batch to batch. Color variation alone doesn't necessarily mean that you received the wrong fragrance.

More Product FAQs

Have a question about other products we carry? Please review our other product FAQ pages:
Share
View full details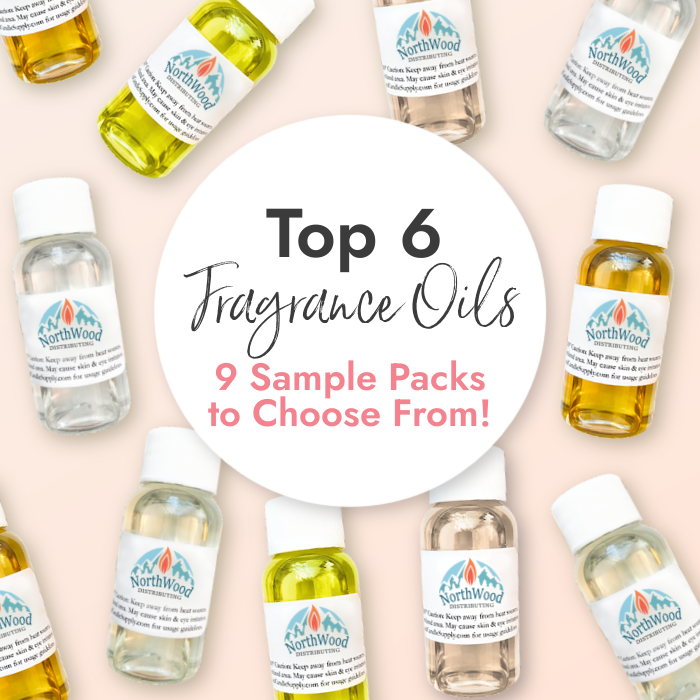 Please visit individual product pages for SDS and IFRA certificates.